Well I know its not Monday but I thought Why not lets take a Sneak Peak at what I have been working on. Here are 2 of the outfits that I whipped together for C.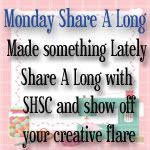 The first outfit was a Bell Bottom and Swing Top How cute is this one.
Here is a picture of just the pants
and the top is adorable it is actually a turtle neck for the winter months
This cute Fall inspired Peddler is adorable I cant wait to get some action shots.
Here is another view to show off the pants
and the tie.
More to come soon. I promise.