Well its November 1st and I'm kicking off the official start of the Holiday Season with a Sewing Challenge and Giveaways.
Sew I have been sitting here the past month trying to organize my craft room and get everything in order sew that I can get my craft on for the stack of holiday presents and projects that I need to get done. Sew who doesn't like a CHALLENGE, I would love to challenge all my followers to Follow along.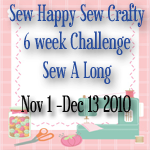 The Rules and Guidelines for the 6 week Sew-A-Long Challenge
D

ust off your sewing machine, embroidery machine, glue gun, and craft supplies and get your craft on.

Each week will be a different theme, it will be posted on Sunday evening so that you can prepare for the upcoming week.

There will be a mclinky button on Monday to show off your weeks projects.
The guidelines and rules for the 12 giveaways of Christmas
So to make the sew-a-long fun an exciting I thought who doesn't like a great Giveaway and since we are trying to dust off our sewing rooms and get some pre-holiday projects done Why host an awesome Giveaway series as well. I have been trying to come up with a fun way to giveaway items for Christmas and since most of us are familiar with the 12 days of Christmas we here at Sew Happy Sew Crafty are going to take a our own spin off the traditional Christmas song and host the 12 giveaways of Christmas.
The first week Starts November 1st and runs thru to December 13th.
The guidelines and rules for each giveaway
The giveaways will run either Monday - Friday or Wednesday - Monday

You have to grab the blog button to participate

Each week there will be 2 giveaways, and each prize will go with The 12days of Christmas so I hope you enjoy sharing your pre-holiday sewing with SHSC.
DON'T FORGET HAVE FUN!!!!