So The NEW Year is quickly approaching... which I'm still sitting here pondering how in the world did that happen.... Where did 2010 go. Recapping on the year and the NON progress that I had made on my organizing of the house, the sewing studio, our life, the clothes, I think you get the point.... I vowed to ring in the New Year with a Clean Slate..
I love the Holidays, I think by far its my favorite time of year, but the Clean up also means purging out with the old in with the new. The New Year means fresh starts, Clean Slates, New Resolutions and just plain starting over, so when I came across one of my favorite blogs doing a Challenge.... I couldn't resist.
So if you get a moment head on over to ................................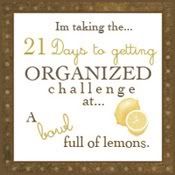 And get Organized with us... Make sure you check out the
Checklist
before the 1st so that you can make sure that you are ready, and don't forget to snap those Horrible before pictures and the fabulous after photos, at then end there is also a giveaway that's right a giveaway... And I know I'm a sucker for Free stuff... So Lets get organized together and start 2011 off right.