Well it's week 2 of my Sew A Long Challenge, mainly this challenge was a personal one because as we all know in the grand scheme of things, Life always seems to happen. When I go to pick up a pattern, cut some fabric, dust off the machine, some how the day is almost coming to an end, the kiddos are sick or Life Happens. This has been not only a therapeutic journey but a fun one. I have been able to tackle some much needed TO DO lists, and it feels good.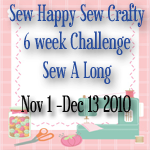 So Week 1 the challenge was to create fun an exciting things for a little girl, it could have been anything you wanted to whip. I took this opportunity to have fun with some great fabrics by Debbie Mum, some Random Fall Prints that I had found in my stash and some fun new patterns that I hadn't yet been able to break the seal on. I hope my little Princess likes her new outfits.
This week the Challenge is BOYS BOYS everywhere, I find that when I'm looking for new fun exciting things to sew it either is a girlie pattern, a mommy pattern, or something for my house, kitchen or a new bag. It seems like the Boys in our life get left behind, but this week my goal is to focus on my little man. He hasn't been feeling well lately and what better way to brighten his day than to make him something stitched with Love. I have also been sewing up some Christmas presents that I might give everyone a sneak peep. Stay tuned for the Share A Longs which will start on Mondays since some people need the weekend to catch up. I hope everyone has a great week, and happy sewing.