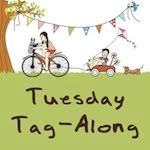 This Tuesday we are starting something new, Our fellow blogging friend over at
Twee Poppets
is kicking off Tuesday Tag-Along. Please come and join in all the fun with all of your blogging friends. If you participate in Friday Follow this is another great opportunity to have new friends stop by and visit. I hope to meet new friends, while running into some old ones.
Happy Tuesday, if you want to participate in TTA
HERE IS HOW IT WORKS
Create a Tuesday Tag-Along Blog post. Include the Tuesday Tag-Along button .

Add your blog name and URL of your TTA post to the mclinky

Follow Twee Poppets, the hostess blog listed in the first post, Leave a comment saying that you are following, and Twee Poppets will follow you back.

If you can please follow the blogs in the 3 spots before you, (e.g if your number 20, follow 19,18, and 17) This is not mandatory, but it will help ensure that everyone who signs up gets a few new followers.

Follow as many blogs as you want, the more you follow the more that follow you back. Be sure to tell them you are from Tuesday Tag-Along.

Make sure if you get some from Tuesday Tag-Along that you follow them back
The Tuesday tag-along post and mclinky will post Monday at 8:59 Pacific standard time and the Mclinky will be open to add your link until Tuesday night at 11:59 pacific standard time. You then have all week long to visit other blogs and follow.
There is a new link every week so make sure that you follow every Tuesday as the links will not carry over from week to week.